The Project
This site-specific installation was commissioned to celebrate the creation of The Jean and David Blechman Cardiac Vascular Center (CVC), a 13,000-square-foot facility in downtown Manhattan on the 13th floor of the New York University (NYU) Arnold and Marie Schwartz Health Care Center building. This new facility serves as a centralized outpatient, diagnostic, admission, and discharge cardiology center, with some short-stay inpatient capacity. It provides an environment to enhance the physicians' efficiency in providing a greater level of personalized care to patients. The Center also fosters collaborative efforts among cardiovascular-related disciplines, the medical school, and the hospital.The initial phase of Circle of Life involved interviewing and working with medical faculty to get a direct experience of medical procedures being offered at the center.
Circle of Life
Circle of Life is a series of ten site-specific artworks intended to inspire the possibility of new growth in the patients at the center. The artwork is intended to affirm that healing is a function of a holistic understanding of natural processes. Technical dexterity and natural empathy join forces in healthcare today and this is celebrated by the choice of computer assisted digital media as the instrument for making these artworks. It is also an acknowledgement that the kind of technical ingenuity and team work that took us to the moon is available to individuals who come to this facility. The central installation features a large illuminated image of a moon, 59 inches x 53 inches, which has been texture mapped with the arteries of the hand. This image fills two sides of a portal window. The remaining nine images are 31 inches square. All the images have been made in the computer and take as their theme a free form play on abstract generative growth patterns referencing both biological and botanical sources. These images are situated in recessed niches in the main corridor leading through the facility.
.
# 5, 2003, Front-lit digital print, 31 x 31 inches.
Installation, NYU CVC
Main Portal Construction, NYU CVC, 2003
Moon I, 2003, Back-lit, two-sided digital print
on Fujitrans Crystal Archive, 5

9 x 53 inches.

Installation, NYU CVC
Two front-lit mounted digital prints (far back wall), 31 x 31 inches. Installation, NYU CVC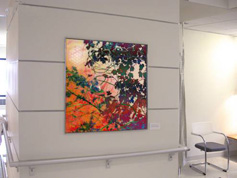 # 3, 2003, Front-lit digital print, 31 x 31 inches. Installation, NYU CVC